Site Menu
where do you wanna go?
PH :: SiteLogin
login to the forum and file archive...
PH :: AdSense
Pump Haven's supported links
Pump Haven :: Pump It Up Prime update 1.02.0
03:31 CST :: 2/23/2015


Download Links
http://bit.ly/1vAzNLr
http://bit.ly/1BWWLi6
http://bit.ly/1wqaP25

Place the update file in the root of your USB and use the SYSTEM UPDATE function in the USB SETTINGS section of the test menu.

All previous updates must be installed on the machine before updating to 1.02.0. If your machine is in online mode, the update will be downloaded automatically and installed after the machine is restarted.


New Songs
VIXX - On And On (다칠준비가돼있어)
BPM 119
Step charts : S2, S4, S6, S15, D5, D15

D_AAN - Achluoias
BPM 200
Step charts : S8, S15, S18, S22, D12, D16, D24

MAX - Prime Opening (Shortcut)
BPM 128
Step chart : S15, D15, DP??


New Steps
Red Swan : DP??
Her : DP ??
NoNoNo : DP??


Quest Zone
Chapter 2 Open
1. Passacaglia
2. Dr. M
3. Winter
4. Chicken Wing
5. Super Fantasy
-Salem Cat
Pump Haven :: PH titlecard server updated!
04:20 CST :: 2/17/2015
Long overdue, but I spent the last couple nights updating this thing with everything from Fiesta 2 and Prime, including Pro/Infinity crossovers. All title screens with HD versions are now available here as well. Enjoy!

Click here to check it out!

GST files from Prime and for missing Fiesta 2 tracks are coming shortly.
-Turkeyslam
Pump Haven :: Pump it Up 2015 Prime Patch 1.01.0
05:36 CST :: 1/22/2015
Happy new year! All PIU players.
The first update of Prime will be available next Thursday.




Download Links
http://bit.ly/15YDNdc
http://bit.ly/15VvLB1
http://bit.ly/15LhUxf

Remember, if your machine is online, the update will be downloaded automatically and applied when the machine is restarted.

New Songs:
Gentle Stick - HESTIA  S4, S7, S10, S18, D11, D20
Norazo - Ineffective Boss Without Power (치이고 박히고 무능상사) S4, S6, S8, S18, D5, D19, DP??
T-Ara - Sugar Free (Full Song) S15 D15

New Step Charts:
Nemesis : DP ??
Yog-Sothoth : DP ??

Revived Songs:
Banya - Ignition Starts
Banya - Hypnosis

Quest Zone Chapter 1 - Open

Other Fixes:
Top 3 score of Rank mode is activated.
World best score is activated.
Overall improvement in Graphic UI.
Exclusive songs of Latin version are deactivated in Rank mode.
AC, DC commands are activated.
Trivial bugs fixed
-max300jmm
Pump Haven :: More PIU Prime info!
13:03 CST :: 11/16/2014
Pump Haven :: PIU Prime 2015 info leak!
03:11 CST :: 11/10/2014
So, I received an email today from Arcadespareparts that revealed info and screenshots that I'm pretty sure Andamiro didn't want made available yet. Since it's out there, I might as well link to it! They're showing prices of ~$1400 for a new kit and ~$1900 with a new MK. Lots of new previously unknown details are found here.

Check it out! Andamiro is probably gonna be upset. Whoops.

Oh, and the next game's name is going to be called "Prime". I don't really need to worry about being responsible for leaking the name, as Andamiro uploaded a second Youtube teaser for the game and for the first five minutes of the video being available, the name was displayed for all to see...
-Turkeyslam
Pump Haven :: PIU Prime 2015 info leak!
03:11 CST :: 11/10/2014
So, I received an email today from Arcadespareparts that revealed info and screenshots that I'm pretty sure Andamiro didn't want made available yet. Since it's out there, I might as well link to it! They're showing prices of ~$1400 for a new kit and ~$1900 with a new MK. Lots of new previously unknown details are found here.

Check it out! Andamiro is probably gonna be upset. Whoops.

Oh, and the next game's name is going to be called "Prime". I don't really need to worry about being responsible for leaking the name, as Andamiro uploaded a second Youtube teaser for the game and for the first five minutes of the video being available, the name was displayed for all to see...

Oh, and their screenshots: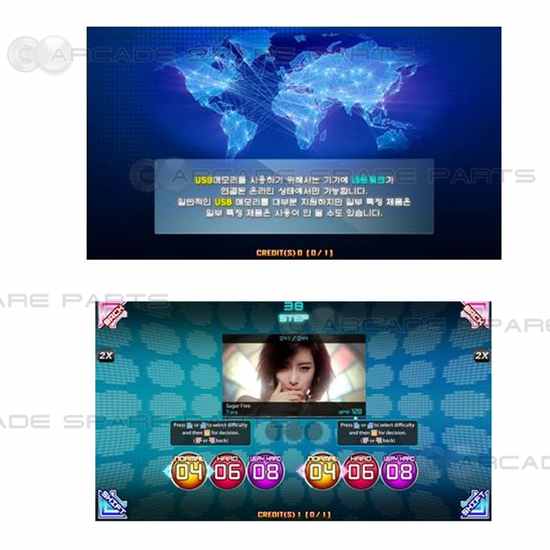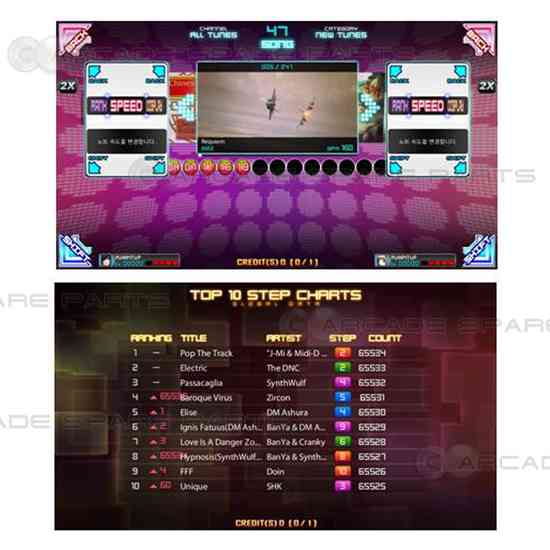 -Turkeyslam
Pump Haven :: Second teaser video released + initial songlist!
14:36 CST :: 10/31/2014


Andamiro has released their second and possibly final trailer for the new PIU game, coming out late next month. The mix seems highly focused on original songs, many from DJMax and other Korean music games.

The song list so far, expected to grow substantially:

PIU Originals:

1) CYO Style - Robot Battle
2) Doin - Leakage Voltage
3) DM Ashura - Allegro PIU Mosso
4) Matduke - Rock The House
5) MAX - Requiem
6) Memme - Chinese Restaurant
7) M2U - Nemesis
8) nato - Yog Sothoth
9) Paul Bazooka - Meteorize
10) SHK - Super Fantasy
11) SID-Sound - Cosmical Rhythm
12) Vesuvia x REDSHIFT - Karyawisata
13) Warak - Latino Virus
14) Yahpp - Red Swan
15) 3r2 - ???
16) Cranky - ???
17) Gentle Stick - ???
18) r300k - ???
19) SynthWulf - ???
20) Vospi - ???
21) Zircon - ???

K-Pop:

22) AOA - Elvis
23) Apink - NoNoNo
24) Block B - Her
25) CNBLUE - I'm Sorry
26) Crayon Pop - Bar Bar Bar
27) T-Ara - Sugar Free

Including patch releases, the game is expected to contain around 52 new songs within a year.

Stay tuned for more! More information and footage is coming later next month.
-Turkeyslam
Pump Haven :: PUMP IT UP 2015
03:40 CST :: 10/08/2014